By Hey Jude, the Roving Reporter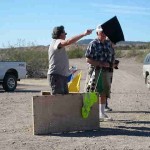 Every second Saturday at 10:00 a.m., folks gather at Skunk Hollow for these races and are aptly dubbed Skunk Holler, due to all the hollering and cheering of the spectators for their favorite racers. This roving reporter finally decided to attend for the first time, in mid Feb., and could not believe these little Nascars! They are absolutely hilarious, and powerful, with speeds up to 40 mph and no holds barred competition with crashes, rollovers, jumps, climbing the embankment to the highway, then rolling back, flipping upside down, crashing into the bushes. Yep, a veritable destruction derby! I was running around trying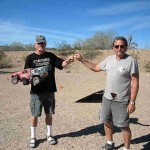 to get photos and was laughing so hard that I was nearly in tears, especially when one of them would chase me and stop short before running over my foot!
There were 7 racers on this particular day: Bomber D (JD); Slobberjaws (Vixen), Orange Crush (Red Apple); Captain Bligh (Little Beaver); Northwind (Desert Rain); Bayou Peddler (Muleskinner); and Little Doe.
The official flagmen are Chuckwagon & Newbie 2 and it was Chuckwagon on duty today. Watch it when he waves the black flag (one of the racers gets a "screw up" award).
T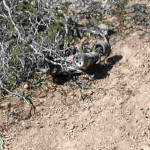 here are lots of pit stops with brakes and steering needing adjustments (rocks jam the steering), run-down batteries and all kinds of other stuff. But all these guys know how to fix 'em and modify them!
Today the coveted gold cup award went to the winner, Bomber D, (you can't see the gold cup as it's the size of a walnut!)
As an aside, these "boys with toys" miniatures can be purchased at Fast Eddy's Hobby Store on 4th Ave. (the big curve near Michael's Crafts) in Yuma and can range anywhere from $100 to $500+ and almost all parts are replaceable.
If you haven't attended one of these races, you don't know what you're missing!