By: Hey Jude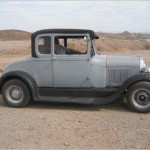 The Roving Reporter strikes again…this time it's the little grey & black coupe we have all seen running around the desert. I tracked it down to find owners, Bruce & Connie Isley, who take great pride in this little gem. They decided this year to tow it behind their motor home from Richland, WA (the Tri-Cities area (Kennewick, Richland, Pasco).
Bruce bought it less than a year ago and spent three months putting it all together. First, he bought the body (in primer and decided not to paint it); a tubular frame underneath it; a Mustang 2 front end; disk brakes; V6 Chevy motor out of a '91 Camaro; and 5 speed manual transmission. He adapted the frame to fit the body.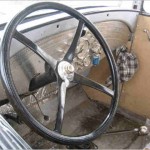 He has always been a car nut and with four sons in tow (and now 9 grandkids), he was always working on their cars and I am sure will continue to work on his grandkids' cars. To name a few of his previous "rods": '37 Chevy Coupe; '55 Chevy; '56 Chevy; '57 Chevy and on and on it goes.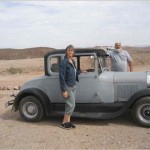 Connie is as passionate about his collection as he is, and it shows when talking to her.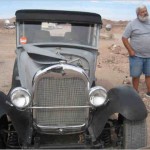 This is their fourth season at the "Wash" and they are currently located in Fish Tail Flats (Boot Hill area to be exact) and previous to that at Hurricane Ridge and the Gravel Pit. Wonder where they'll be next year? Lovely couple and have no problem with people coming up to them and quizzing them on their little coupe. They said it happens all the time throughout their travels.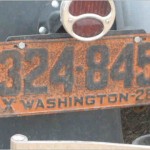 Check out the "original" WA license plate… Bruce had been looking diligently for this and picked it up at a swap meet.