A brief history
By Judy – Hey Jude
(with a little editing help from my friend Roland – Landsailor)
Being "newbies" to the desert, and after spending about five years at Hidden Shores, with full hook ups, golf course, swimming pool, hot tub, restaurant and every other amenity known to man, why are we in the desert I ask myself? Well, my husband, Wayne, wanted to move to the desert from day one but I insisted that I needed all these amenities. Well, unbeknownst to me, he had been quietly collecting all kinds of desert stuff and hiding it in our toy hauler, but did I know any of this? NOT!!! Anyway, this year, I caved and said OK, let's try it and here we are…AND we love it!
I read the first Boon Dockers monthly in Dec. and when the editor, Sue, requested input from anyone in that first issue I read, I approached her and said I would be happy to contribute. Loving music and playing/singing at the Sunday music jams at the gravel pit periodically, I said I would interview the folks in Music Row to find out what they are all about and she said that would be great.
So, the following is what I found out and what I have written about and photographed…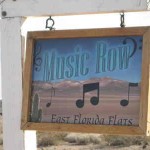 From the outset, I thought it may be a daunting task…OMG, all these great musicians, who entertain us all, here in the desert every Sunday…who was I, to ask them for an interview and find out a little about them? As I have found out over the past couple of weeks, these folks are the kindest, sincerest, most wonderful people you will ever meet.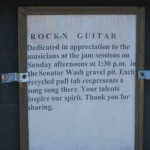 They not only encourage each other in their musical endeavors, but they encourage and mentor anyone who is the slightest bit interested in learning to play an instrument. WOW, I was blown away with their encouragement and their passion for music!
They all know that there are many other gifted musicians (or wannabes) here in the desert, and they encourage you to come forward, to meet and talk to them and let them teach you. You will experience die hard country, rock & roll, rhythm & blues, bluegrass, honkytonk and everything in between. They all blend into a melting pot of wonderful sound and respect each other in such a way that is heartwarming.
You will find these folks gathered at one RV or another, on many an afternoon, just hangin' out, playin' their various instruments and singin', and it's great to witness.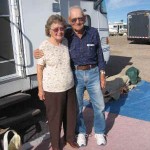 First off, Jim & Virginia Tague, and they hail from Gallatin, Missouri and have been coming here long term since 1982 off and on until 1992. Over 1600 miles they travel to be with us. Jim started playing guitar and singing in public in his 40's and has never put the guitar down since. They saw the expansion of the gravel pit and witnessed the construction of the lagoon. They were in Skunk Hollow but the lagoon (smell of it) drove them to what is now known as Music Row (East Florida Flats) in about 2000. When they moved to "the Row" there were a couple of other musicians but many that are no longer here, for one reason or another. However, it was one of them that painted the now famous sign which appears annually at the entrance to Music Row. Virginia played keyboard and guitar over the years and then moved on to the Dobro guitar, three or four years ago. Jim's passion is old country and he loves the likes of George Jones, Hank Sr., etc. He's known as the best sad singer around and makes no bones about not liking rock & roll.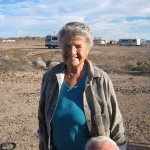 Marjorie Hill hails from Wenatchee, WA and travels about 1400 miles to be with us. She's been singing all her life but just started playing the Dobro guitar about three years ago. She moved to Music Row because of her brother Lee, (Lee Swatman whose bio is below) and is very involved with the goings on in the "Row". She is the one who hauls all the equipment to the Sunday jams that are stored in Buster's little travel trailer…wonderful lady.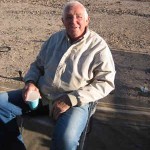 And then there's our Buster (he won't tell us his real name) but his last name is Post. He moved in from the Rim, here at Senator Wash, to Music Row about the year 2000, and he hails from Siren, Wisconsin and travels over 1800 miles to get here. He started playing and singing rock & roll when he was 25 until he was about 40 and stopped for a while to raise his family of six kids, but picked it up again when he moved to the "Wash". He was influenced by certain country singers here at the Wash and since then has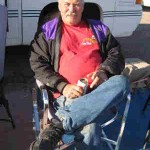 learned to play more of that type of music but still loves to swing back to good old R&R. Randy, his son, started coming down and joining him around 2007 and usually arrives close to Christmas. He is actually here to keep an eye on Buster, who can be a real "case" sometimes (ha). Randy is a welcome and talented addition to the jams.
Buster's middle name is "encouragement", for all those who love music, to pick up an instrument and learn to play. He has coached countless musicians both here and at home and continues to be one of the best coaches in the desert.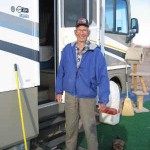 Lee Swatman, and wife, Elsie, hail from Potlatch, North Idaho and travel about 1500 miles to get here. Lee started playing harmonica at about the age of 10, as a hobby, and quit for many years but picked it up again at the "Wash". He now owns about 10 harmonicas. Why 10, I asked (proving my lack of musical knowledge), and his response was, because each harmonica is in a different key. Did you all know that? Lee also proudly tells me that he is the one who installed the sign "Music Row" in its current location atop the rock crop. For more on this fellow, be sure and read Leonard & Val's little bio below as there is an interesting story between these folks.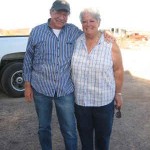 Leonard & Val Wilson hail from Wilder, Idaho and travel about 1,000 miles to their winter home on Music Row. Leonard started playing acoustic guitar in the mid 80's but Val has been playing keyboard since she was a child. They have been on the "Row" for five years and Leonard makes no bones about what a huge influence Buster and others here have had on him. I mentioned above in Lee Swatman's little bio that there was a story between these two…well here goes. Five years ago, Lee was about 400 miles from home when his motor home broke down on a steep hill. Where, you ask? In Wilder, Idaho.
Leonard & Val were driving to church and wondered about a big rig being parked on such a steep hill. On their way home from church, it was still there so they stopped to see if they could help. They got it towed to Leonard's home and spent the evening with each other and Lee was telling Leonard all about Music Row. Well, as they say, the rest is history.
And then there is Jerry Pennington and his lovely wife Sandy, who both play guitar and they hail from Prescott, AZ and only travel about 200 miles to be here (gosh, they can go home for lunch). They started out on Music Row about six years ago, but with their two doggies, and Music Row becoming more populated, they thought it was time to move across the street (Music Row has expanded across the street). In 1966, when Jerry came back from fighting in the Vietnam war, his Mom and Dad bought him a Sears Roebuck, $39 guitar (which he still has today) and that was the beginning of his love for music. He plays acoustic and electric guitar. Sandy started playing piano at the age of 5 and also played a little guitar but stopped her musical inclinations when she began raising her family. Then, when they moved to the "Wash" and she met Buster, he offered to teach her bass guitar and she was off and running. She plays at the jams but I asked her why she did not sing…she is a little shy, but is getting up the courage, so watch out…you may see Sandy and Jerry singing together very soon.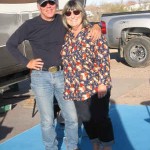 Roland & Arlette Arsenault hail from Magog, Quebec (Canada eh?) which is just north of the Vermont border and about an hour east of Montreal. They travel 3400 miles (one way) to be with us and this is their 10th year here in the "Wash". They discovered the existence of Music Row during their first year here and immediately moved over. Roland came from a music loving family and he and his siblings sang together all the time. He picked up the guitar when he was about twenty, is pretty much self- taught and leaned more toward folk music at that time. However, since being here, he has caught up with the country musicians and now plays/sings a whole mix of music. Buster & others have been a real influence on him. Plus, his lovely wife Arlette has recently taken up guitar and is a fast learner. You will see both of them at the Sunday jams singing and playing together.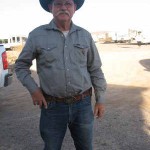 Frank Rodrigues and wife Molly hail from Chino Valley, AZ (N. of Prescott) and, like their friends the Penningtons (see bio above), they are only a couple of hundred miles from home. Here for the first time with encouragement from their friends, they are only staying a few weeks but plan to winter here next year. Frank is a cowboy through and through as is his music. AND, he is cowboy poet, singer/songwriter and has travelled throughout most of the U.S. western states regaling audiences with his poetry and songs. We will have to get him to recite some for us next season. He started playing a cheap little dime store guitar before the age of five and has never stopped since…and he has many CD's to his credit. His whole family is musical and they play a variety of instruments. Although he has always played acoustic guitar, he is now learning to play lead guitar (again, Buster is coaching him while he is here).
Not only can this guy play guitar and sing, look what else he is passionate about! See if you can top this fish story. He caught this 80 lb. bluecat in Grand River at Jameson Mo. on a 17 lb test line using shrimp for bait and it only took him 35 min. to land it!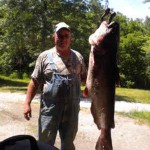 Steve "Big 88" Adkison along with wife Madelynn, hail from Jameson, Missour, some 1600 miles from here. I nicknamed him Big 88 as he can always be recognized wearing his coveralls (referred to as big 88 as they are 88% cotton). Anyway, Steve's dad, Lawrence, who used to come to the "Wash" (stayed in Skunk Hollow), taught Steve guitar in his early 20's and he has never stopped since. He plays acoustic guitar and loves old country music. His dad played the fiddle and the cute part of Steve's learning guitar is that he would play along with his dad on the fiddle and each time there was a chord change, his dad would tap him lightly on the head with his bow…and that's how Steve learned to play. They only live a couple of miles from the Tagues (see Jim & Virginia Tague's bio above) and the families literally grew up together and that's how Steve & Madelynn came to be here 9 years ago.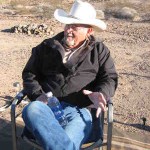 Von Glasgow along with wife Kris, hail from Heber, Utah and travel about 750 miles to be here. They started coming to the "Wash" eleven years ago and always to Music Row. His dad played lead guitar and came to the desert during the 70's & 80's so it was just a natural progression for Von & Kris to follow suit some years later. Von has played lead guitar most of his life and moved onto a lap steel guitar and played both for awhile. Then he added into the mix, a pedal steel guitar, and if you have not attended a Sunday jam to hear this guy play, you are really missing out on something special! He did set his musical instruments aside for quite a few years due to the time limitations of owning his own business. Back in his teens he played a little rock n' roll but his love for country music swayed him. Some of his favourite country artists include Merle Haggard, George Jones, & Waylon Jennings.
An interesting little side bar about these two is that they met when Kris was 11 and Von was 14 and have been married for 52 years! Her sister married his uncle and they met at that wedding and the rest is history.